This post is also available in: Português
By importing employee information directly into Bybrand Departments, via integration with G Suite, you eliminate manual tasks, making the process of implementing email signatures more efficient.
For faster instruction, see the full video tutorial at the end.
Activating Integration
Before you can start importing users into your created Department, you need to enable Bybrand integration with G Suite. We already have a complete tutorial for this process, see in:
Creating the Department
The first step is to create a department. Let's consider that you just created one.
Once created, choose the import menu via integrations, as can be seen in the example illustrated below. With G Suite integration active in your Bybrand account, click Import.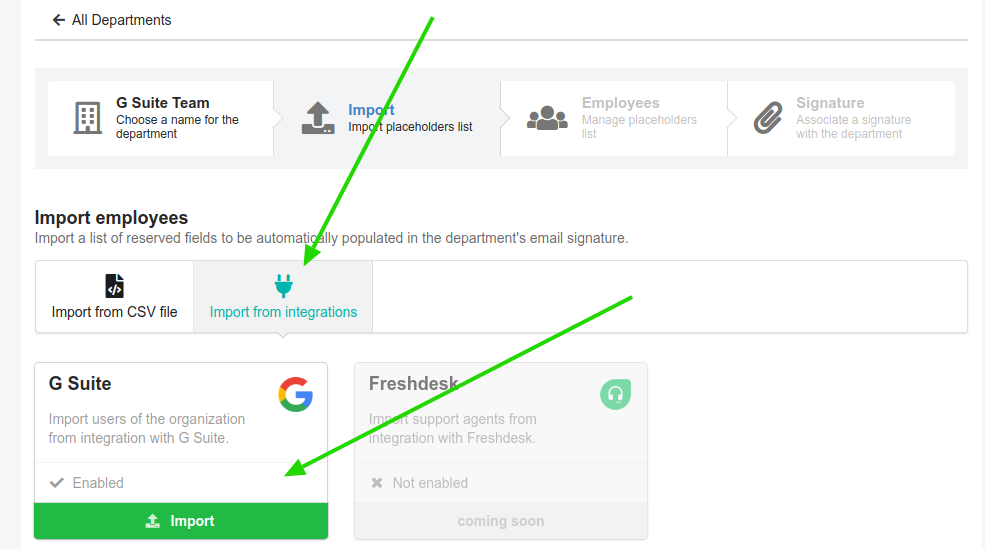 If your G Suite integration is not active, you will receive an activation warning. Then go back to the page and click on import.
Importing G Suite users
In this part, will be displayed all the available domains in your account. You can load users' information of your domain to Department.

In the example, all users of the @adizer.com.br domain will be loaded by clicking the Load users button.
Here is the list of reserved fields imported, and which you can use in the email signature. It is added as empty if a field has no information. You can at any time edit the employee information, and add the missing data.
email
firstName
lastName
fullName
employeeTitle
employeeDepartment
phoneWork
phoneMobile
photo
User profile photo
You can see that we also import the profile picture of the employee if there is one. This way, you can use the custom image for the email signature.
See this tutorial for more details on how to work with dynamic images in departmental signatures.
The images loaded by the employee are also available in superior Assets.
Video tutorial
As declared, here is a complete video of the entire process described above. For any questions or difficulties, please contact our support by clicking on the button beside it.
Maybe, you'd like to see how manually import users. Take a look at this tutorial.