This post is also available in: Português
You can have more control over the images you use on an email signature with Bybrand Assets. The main features are:
Preventing an image in use from being deleted;
Change the contents of an image;
We recommend you read a little more about Bybrand Assets in our released statement, where we have a presentation that contributes to this tutorial.
Let's take a closer look at these two features.
Preventing an image in use from being deleted
The concept here is very simple, you can't delete an image if it's being used in an email signature. It is possible to see if an image is being used by opening the preview page.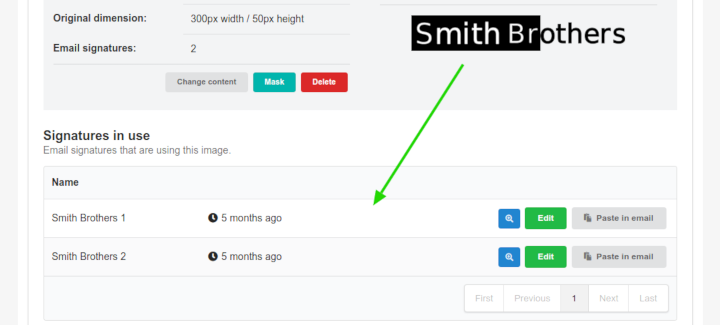 In this example, it's possible to see that the image Smith Brothers is being used by two email signatures. So, if you try and delete it, you'll receive an error.
Changing the content of an image
This is the main feature, Bybrand Assets allows you to change the content of an image without changing the URL of the signature link. Basically, you change the image, but its name (link) is still the same.
This can be very useful, for example:
Changing the logo of a signature without physically changing the signature;
Adding watermarks as special celebrations;
Rebranding;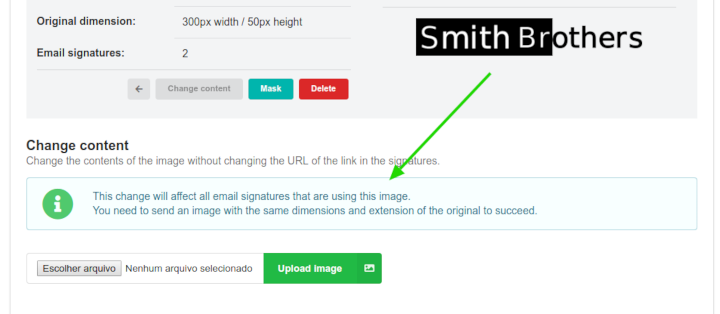 This modification does not work for icons unless you have them in your account. That could be a good idea!
Video presentation of a logo rebranding, from blue to red, and automatically updating the email signature.
Important note
For the change to work, you need to send in a new image with the same characteristics of the original one. This means the same dimension (width/height) and the same extension.
Why do you need to do that? This image is already being used, and if you send a new one with different dimensions, this could break the signature that is using it. The system blocks the change if try to send one with different characteristics.
Note about image caching
When you change the content of an image, the new one might not be instantaneously shown because of the cache. Read a little bit more about it on Wikipedia. Without cleaning your cache, the update of the content might occur up to 4 hours.