This post is also available in: Português
Did you know that you can market your brand by merely having a good email signature? Email signature marketing is a simple but incredible marketing tool that will not only increase brand awareness but drive sales!
The advantages don't only end there – it also makes your emails look much more professional, allow quick access to contact details and other marketing channels, generate traffic, improve targeting, and best of all, it doesn't even cost that much!
Every professional email signature should include your iconic brand identity elements: your company name and logo, your corporate fonts, and the colors. These things should be consistent throughout your entire company so that whether an email recipient gets an email from the CEO of the company or the manager of the packing department, they'll immediately recognize the brand. Consistency contributes to recognition, and recognition helps to brand awareness, after all.
In this article, we will discuss a few of the specific benefits that you can enjoy with a professional email signature. Let's take a look.
It will make your emails look professional
An email signature can be compared to a business card. Business is often done online nowadays, so an email signature means that you don't have to hand them a physical card to cram into their already-full cardholders – they can take a look at all your necessary email by opening literally any email that you've sent them.
An email signature reminds the recipient that you are not communicating on your own, but on behalf of your company. This makes your emails seem a lot more professional.
Here are a couple of components of an email signature:
Your company name;
The position you hold in the company;
Your company contact details;
Anything of additional value (eg. a link to the company's other online channels);
It's crucial that your email signature be brief, accurate, and attractive. A messy-looking email signature won't get more than a glance.
Here a great model to start.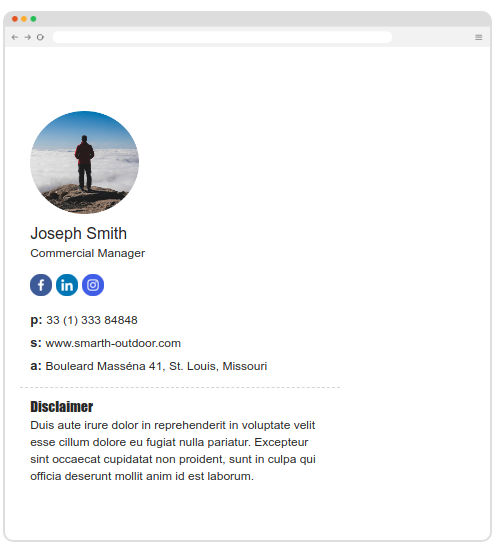 It will personalize your correspondence
We've just gone over how email signatures make your emails look professional. However, this doesn't have to mean aloof. Email signatures can also make your emails a lot more personal.
Take, for instance, the customization of your greeting or your closing. Rather than closing with the expected "Sincerely yours" or "Best regards," why not try "Greetings from [location]" or "Have a wonderful weekend!" This small change can make your emails seem a lot more personal.
Another thing you could try is allowing specific business contacts into your personal life. For instance, to a long-term client whom you have developed a banter with, a link to your own social media profile on your email signature could be an indication of trust. Don't make this standard for everyone, though – there is still some truth as to the separation of work and personal life.
One more thing you could try is adding a personalized link into your email signature. For instance, if you have been corresponding about a particular product or service, link them to an article about its usefulness or to a page that will offer them a free trial.
It allows people to find your contact information easily
In the past, people had to rifle through cardholders to look for your business card when they needed to get in touch. Now, they can find everything they need on any email you've ever sent them. Perhaps it's just your cell number and email address. Maybe it's also your work address and your office number. Whatever contact information you think makes it easy for prospects or clients to contact you, include it in your email signature.
Don't forget your social media icons too. Links to your company Facebook profile, your LinkedIn page, or even your professional Twitter could prove valuable as social media is an increasingly popular way to get in touch.
Bybrand has a wide variety of social and useful icons like phone or website, all free to insert into your email signature.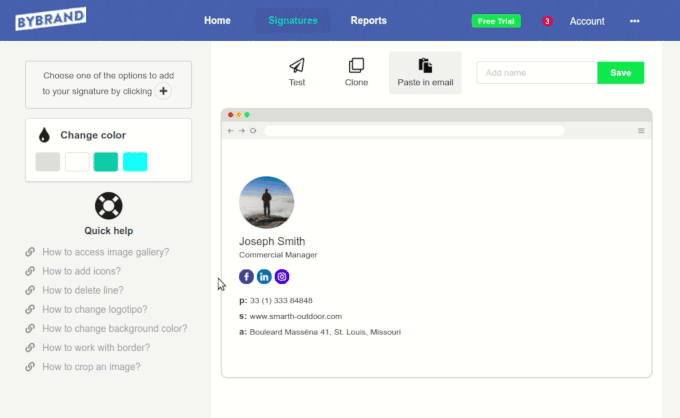 It gives you a way to promote your products
Quite a few businesses design their email signature banners in a way that allows them to drive profits. Whether you want to advertise products, discounts, events, conferences, content, surveys, a newsletter, or even a free ebook, why not include it in your email signature?
Most of these email recipients are people with whom you have already corresponded and therefore probably have a business relationship. They are much more likely to trust you and be willing to click on a promotional link you provide.
What better way to increase conversion?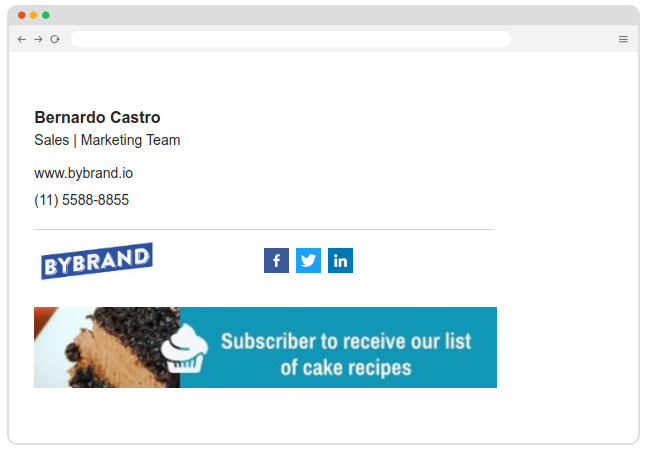 It generates traffic
One of the best things about email signatures is that they can generate traffic. By placing your company website URL and links to other company social media channels into your email signature, you are increasing the chance of your recipients clicking on your links, even if they've never visited your website before. The primary purpose of an email signature may not be to drive sales, but it just may do so.
Besides your company website and other social media channels, consider linking some other things there as well. A landing page, the contact page, or even your Portfolio page, can be useful. Just be sure to ask yourself whether the links you provided are useful to the email recipient before sending it out.
It increases your reputability
Your email signature helps people see who you are. This makes you appear more reputable and credible. They will also be able to see your name, your position, and your contact details, which is often taken as a sign of trust. It's always beneficial to increase your reputability and that of the company, as it can go a long way to fostering a good relationship with prospects, clients, suppliers, and manufacturers alike.
This increase in reputability often increases the likelihood of you getting a reply. Since you are seen as a person, and a reputable one at that, people feel more obligated to reply to you, thus increasing your response rate.
It is cost-effective
Several marketing tools are incredibly costly and require quite an investment. Email signature marketing is not one of them. A practical, personalized email signature costs next to nothing.
So what are you waiting for? Get started on a professional email signature today!