This post is also available in: Português
Did you know that the average lawyer sends dozens of emails a day? In fact, large law firms can easily eclipse 500 – 1,000 emails a day split among many lawyers, secretaries, and partners. And there's very little chance that this figure will change in the near future.
Email remains the preferred method of communication between lawyers and their clients.
Email leaves a paper trail for clients that they can use to prove communication. Bybrand makes it fast and easy for lawyers to make the most of their email signatures.
Firms can control email signatures for the lawyers of their choosing to ensure that every message contains information specific to the lawyer.
A lawyer's email signature can help firms create a professional look and add to their brand consistency.
Let's take a look at the many ways you can use Bybrand to manage email signatures.
1. Bybrand includes signature templates designed for lawyers
Lawyers send enough emails that their signatures can help clients and leads. If you don't know how to create the perfect HTML signature, you're not alone. Lawyers are not designers, so you're not expected to know the ins and outs of making perfect email signatures.
Bybrand incorporates email signature templates that allow you to:
develop signatures quickly
never waste time on creating email signatures
create truly professional signatures.
There are set styles and fonts that empower you to quickly add email signatures. Since the templates have been rigorously tested, you can be confident that they'll work across all email clients and browsers.
All you need to do is add your details on the user-friendly interface, and you'll be seconds away from adding a custom signature to your emails.
Of course, you can add all the most important information into your signature, such as:
links to your contact, website, or anything of your choosing
firm branding for cohesion across platforms
contact information so that clients never need to hunt your contact info
service or specialty information so that you can tell email recipients what you're best suited for helping them with.
You can spend hours creating and testing your signature in HTML, but there's always a chance that it won't work properly on a client's reader. When you use a prepared solution that offers customization, you can have confidence in your signature and maintain high quality of your brand.
2. Create a standard signature for law firms without errors
A lawyer's email signature is an extension of his firm. While you can use templates to dramatically reduce the time it takes to make the perfect signature, you can also leverage the robust editor.
The editor allows to create flawless email signatures for lawyers no matter what their technical skill.
A few key benefits of the editor are:
image gallery
icons stock
No form to fill
40+ professional templates.
With this cutting-edge signature editor, you can create uniform communication across your firm. Add your logo and colors while allowing your lawyers to add their links and information.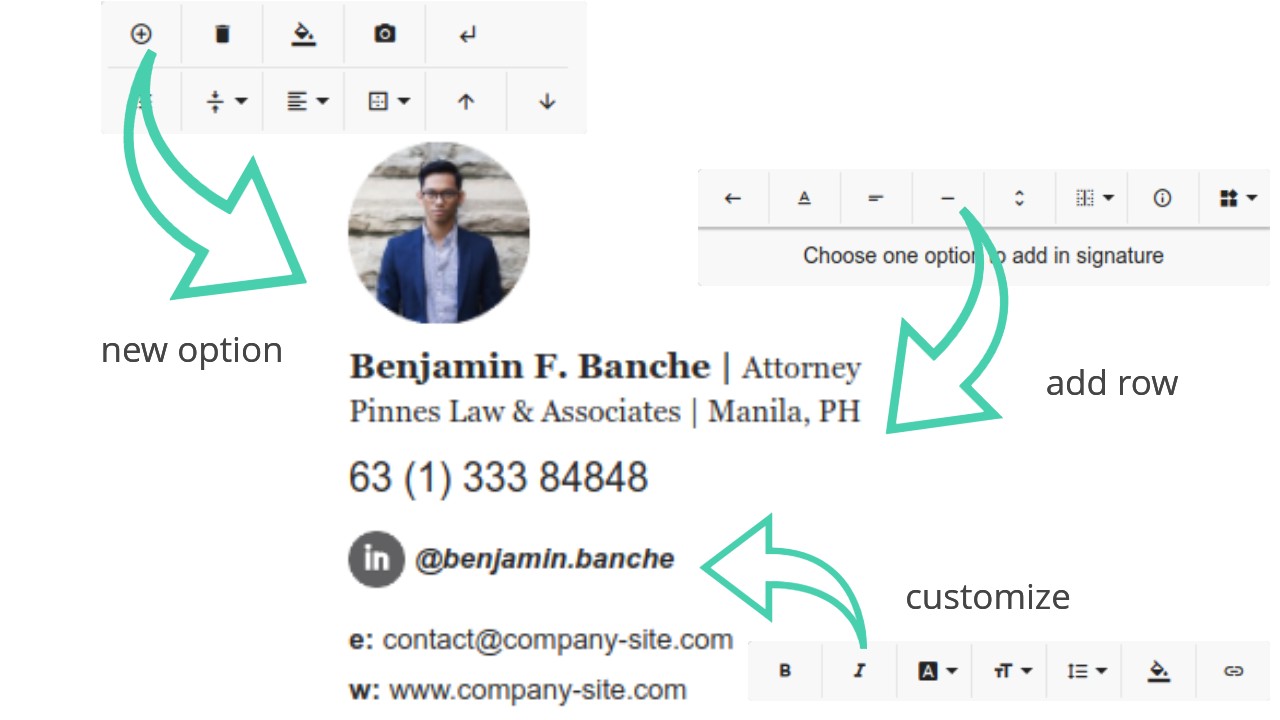 You can use a drag and drop feature to browse and add images from your firm's gallery into your signature. If the person's face isn't the focal point of the image, you can crop and scale it to fit your desired design.
When you click on text, you'll have a nice text box to fill in and numerous formatting options. If you want to change the text size, color, or anything else, you can do so with an editor that takes seconds to master.
Plus, you can do all this without the overheads of hiring a professional designer.
Since you're using an editor that creates all your signature coding, it takes minutes to begin using your signatures.
Signatures leave lasting impressions on everyone from prospective clients to business associates.
3. Disclaimer management for all employees
It's standard practice for law firms to include disclaimers in email signatures. Disclaimers help to prevent sensitive information from getting into the wrong hands.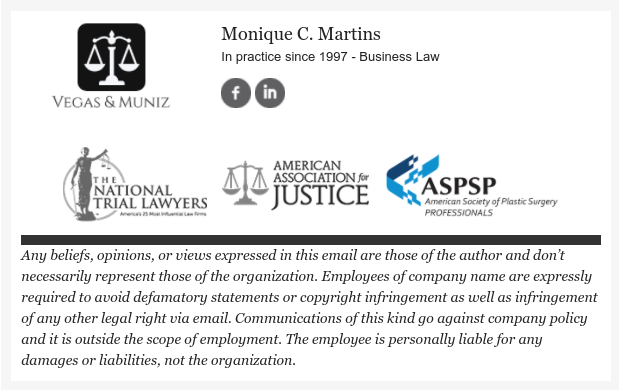 Bybrand makes it easy to create and manage email signature disclaimers for all employees. The simple and intuitive email signature management allows your firm to set up signatures with disclaimer blocks in minutes.
4. Integration Google Workspace, Asana, and Google Sheets
Seamless integration is what law firms want to master when updating and managing email signatures across multiple attorneys. With a robust tool like Bybrand you can create and manage signatures in:
Integration at this level allows you to import all employee lists into a single database that you can manage. It takes a single click to update signatures across platforms, so you never have to go on multiple devices to make the updates.
Since management can handle the creation and updating of all signatures, you can maintain professional cohesion across your firm.
There's no need to train lawyers to create signatures or to ask a large team to update their signature when a firm changes its logo or branding. As a result tasks that used to take hours or longer can now be done in a fraction of the time.
With less manual effort involved it's easier to make the perfect email signature while reducing trivial errors such as an employee putting in the wrong link or logo.
5. Signatures for multiple departments
Do you want to standardize email signatures across multiple departments? If so, performing the task manually can be extremely aggravating. A single team member being out of the office can derail the whole team's signature update until the employee returns.
If the employee is on vacation, you'll need to ensure that they update their signature in advance.
Instead Bybrand's department feature allows you to manage many employees across departments. You can add department specific:
contact information
links
titles
etc.
Law firms often have numerous departments that operate in their own ways. Integration with the latest tools such as Google Workspace, Sheets and Freshdesk makes it easier to update a whole department's signatures without logging into multiple platforms and attending lengthy meetings.
You can manually add new lawyers to the update list through integration or with a CSV list separated by commas. Whether your department has 50 or 500 lawyers, integrations and multiple lawyer management will speed up your signature management.
Human Resources departments that lose days on managing signature updates will welcome the streamlined process that the department feature in Bybrand offers.
A single bulk action update allows you to synchronize data and push large department updates faster and more efficiently than ever before. Plus, you'll reduce the risk of errors that occur with manual updates at scale.
Wrapping it up
Email signatures for lawyers help to add to your firm's branding and can be created quickly. Since a single lawyer can send dozens of emails daily, it only makes sense to maximize this crucial space in your email.
Using Bybrand to create lawyer email signatures will speed up your signature creation with built-in templates, easy editing, and customization without coding.
---

Create your first email signature with Bybrand
Create, manage, and deploy powerful email signatures for your team using Bybrand.