This post is also available in: Português
No matter what competitors do when launching new updates, Gmail will still be one of the best webmail. With advanced features of bookmarks, chat, video calls, and spam filters, the official email from Google has gained much popularity and used by 1,4 billion users.
Today, we are here euphoric with the launch of our first integration, and could not be a better partnership with  Gmail, the email client of Google.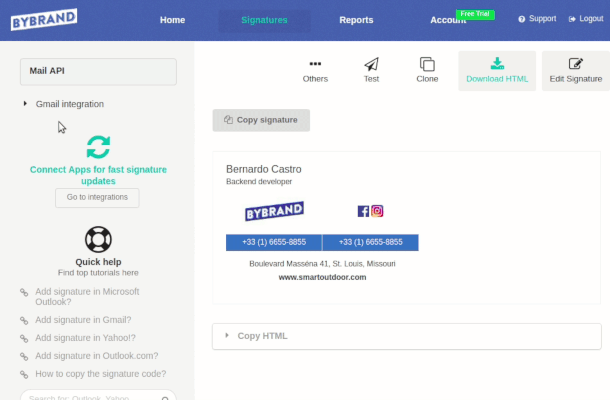 Gmail integration
Update your email signature without leaving Bybrand.
You can now update your email signature with just one click, without having to sign in to Gmail and go into settings and paste the HTML into the signature text area. As you can see in this tutorial Adding a signature in Gmail, manually.
Enabling integration will save you a lot of time, and especially possible errors compared to manually pasting the signature.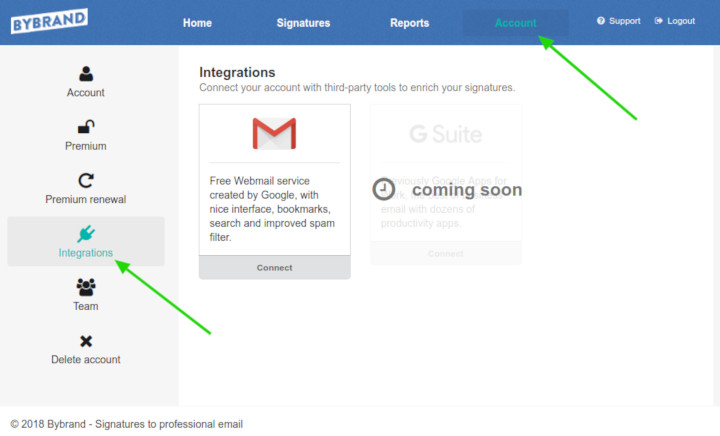 To turn on the integration
Visit the menu: Bybrand Account / Integrations / Gmail

Why do we choose Google Mail, like the first?
The choice of Gmail as the first integration available was not by chance; the main factors were:
A huge user base;
Well documented API;
Active developer community;
It is the primary email integration of Bybrand customers.
In all requirements, Gmail won over Outlook.com, Yahoo.com (alias, competitors do not have a rich API, making it impossible to update the subscription, unless manually.)
View the integration page in the email signature generator for Gmail.
What comes next
So much happiness that does not fit in the chest, the integration area is an essential step for Bybrand to be the best email signature manager, our effort is to give less work to customers.
Signature integration is not just with email accounts. Our job is to enrich your team's email signatures. For example, you might want all the links in the email signature to have a URL shorter like Bitly or receive warnings in the Slack group when a change made.
Here is a list of other integrations that are on the way, do not look at all in-depth; it may be that a business, does not have an integration API available. But we are already doing some "lobby" for availability. We're hoping that everything works out.
G Suite (done!)
Zendesk (coming soon)
Freshdesk email signature (done!)
Slack – Alerts
Outlook.com (pending API)
Microsoft Office 365 (pending API)
Zoho Mail (API, next)
Mailtrack / bananatag.com – Email tracking
URL Shortener (Bitly done)
CRM
Email marketing for cold email campaigns.
Help desk software (Help Scout, Reamaze, Zendesk)
Finally, visit our integration area. And also, follow our page on Twitter, Facebook, and LinkedIn for important updates.